Uncategorized
Event Recap: Dreamforce 2018
In late September, we joined thousands of other Trailblazers at the biggest Salesforce gathering of the year, Dreamforce. From meeting customers, partners, and leaders and innovators in the Manufacturing space, to feeling the energy around the Customer 360 initiative from Salesforce, to sharing the story of how our customer, EnerSys, is integrating Salesforce CPQ with SAP Variant Configuration, we had a full and busy 4 days!
We had another great day at #DF18 yesterday!

Make sure you stop by our booth in the Manufacturing Lodge sometime today to talk @salesforce + @SAP integration. #Dreamforce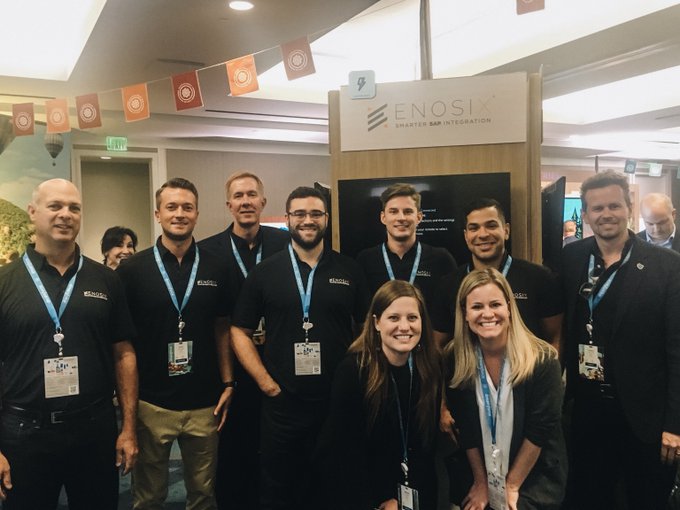 211:51 AM – Sep 27, 2018Twitter Ads info and privacySee enosiX's other Tweets
Our speaking session: EnerSys Integrates Salesforce CPQ with SAP Variant Config in Real-Time
In our Theater Session, our CEO Gerald Schlechter spoke with Brion Schweers, VP of Quote to Cash Solutions at Salesforce, and Brian Grignon, Enterprise Program Manager at EnerSys, about the common challenges in integration and digital transformation projects, and how and why EnerSys selected enosiX to solve their integration challenges.
"We're a very traditional manufacturer … and we're going through an enterprise transformation. A big part of that transformation was implementing Salesforce and getting a consistent, single view of our sales pipeline globally. Traditionally we've operated a very siloed organization … and we cannot operate that way anymore," said Brian Grignon of EnerSys.
After testing traditional integration technologies, EnerSys looked for a scalable solution that could navigate the complexities of SAP.
"We evaluated other solutions, but enosiX had both a certified solution on SAP and a certified solution on Salesforce, and a direct plug-in to Salesforce CPQ. We sell both configured and non-configured batteries, so we needed to have a solution that could work for both of them. With this plug-in, it's native to CPQ, so when I have a configured material, it alerts me that it's a configured material, but if I have a non-configured material, it just goes on with standard pricing. We wanted to make sure we had real-time access to that data," Brian said.
Did you miss our session with EnerSys? Listen to the recorded session or view the slides.